Editor Macros
Something really interesting happened to me over the course of the last few weeks: I switched from using a combination of tmux, vim, and the fish shell for my daily computing needs to doing everything and more in emacs!
I can already see some readers of this make faces and scream out profanities and other nice things in disgust: "You are such a heretic!", "How could you become one of them?", "You officially joined the dark side", "We have to stop being friends now."
But wait… Let me explain myself. Emacs is actually quite a pleasure to use.
The most important thing that I learned on my still very short journey through emacs-land is that comparing emacs and vim is not a very fair comparison. This might sound a little counterintuitive at first, but consider the following:
Text editor vs. Text processing system
Vim (and of course, vi; excuse me if instead of writing vim/vi, I will just write vim in this article) is a text editor. Using vim, your workflow will consist of opening a file, editing it, and then closing it and doing something else. Editing that file is a dream. I have absolutely no doubt that vim and its great text editing language is the fastest and most efficient way of editing any kind of plain text file.
Emacs, on the other hand, is a different beast: You can think of it as a text processing system. What I mean by that is that emacs is designed to manipulate and process any kind of text, which includes text files, shell I/O, human communications, the web, or anything else that, in its essence, is composed of text.
An integral part of making emacs so powerful is the emacs lisp, or 'elisp', programming language. At its core, emacs is really just an elisp interpreter and everything the user does to interact with a piece of text is an elisp command. For example, pressing any character key while editing a writable buffer would call a command to insert text at that specific point.
Of course, users can write custom commands in elisp, and over the years, many of those custom commands have been integrated in official emacs releases. Emacs has a command for just about anything! At this point, I have to point to the obligatory xkcd comic: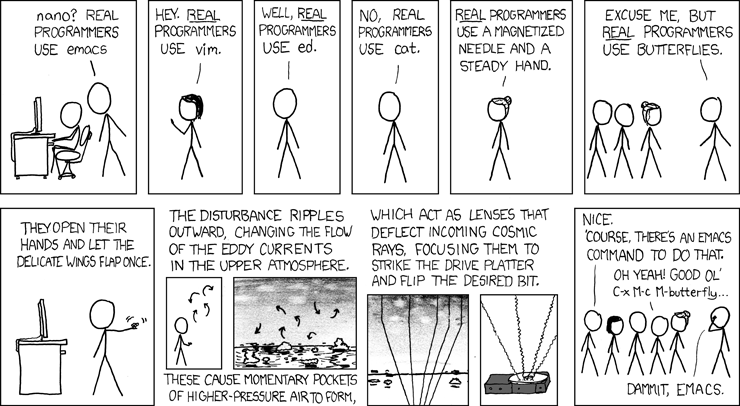 Emacs' configurability and vast number of features have sparked a lot of interest in me, up until the day that I actually tried it. All of emacs' configuration files live in ~/.emacs.d/, and the equivalent to the .vimrc file would be the file .emacs.d/init.el. At the point of writing this post, my init.el is already 366 lines of elisp code, after using emacs for only about a month! As you can see, hacking emacs is not only encouraged, it is almost required.
Just to showcase some of the powers of emacs, consider the following screen shot, which shows an emacs frame in which I'm editing the article you are reading, but I'm also running a full-blown MATLAB shell, complete with plotting window, and I'm reading email. Pretty cool, eh?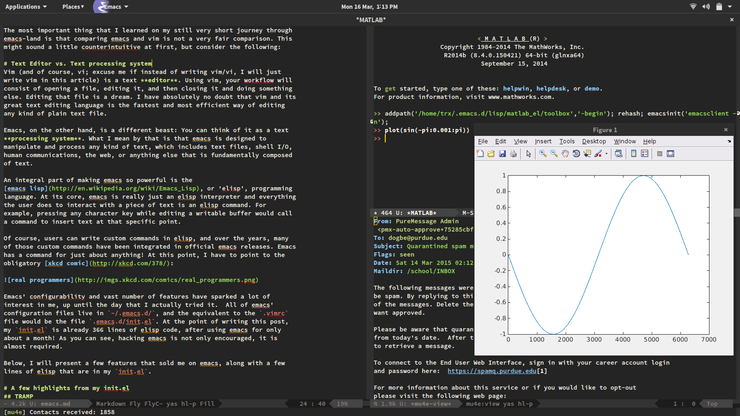 Below, I will present a few features that sold me on emacs. Detailed configurations will have to come in blog posts by themselves, otherwise this article would not be a very pleasant read.
A few highlights from my emacs configuration
Is this the start of a series?
Even though I did not go into a lot of detail, this has been a very long post. Maybe it's the start of a series, since each section could be followed up with its own article. I think it is. So stay tuned for the next article in my new series on emacs!
Contact me if you find out something cool, or have any requests for further articles about emacs and its features.
Dennis