About Me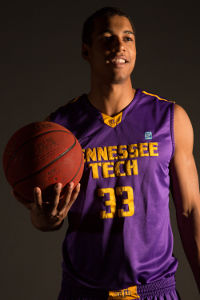 Hi, my name is Dennis Ogbe and I am a PhD student at Purdue University Electrical Engineering. Before that, I studied Electrical Engineering at Tennessee Technological University, and I am originally from the beautiful city of Munich, Germany.
At TTU, I was part of the Men's Basketball team, which I still avidly follow and support. (You can probably already tell from the picture)
My research interests are in the area of Wireless Communications, and I occasionally teach a programming course.
I am a member of Tau Beta Pi and Eta Kappa Nu (HKN) and I am currently the President of the HKN Beta Chapter, a chapter of great tradition.
I have created this website as an on-line 'resume' and I have created the Blog to share ideas and other tidbits that I find interesting. It also serves as a sort of notebook: Whenever I find out or learn something cool (like a neat bash or LaTeX trick, I especially like those), I post a little manual here to not forget what I did.
This site is built from plaintext Org-mode files using its extensive publishing capabilites. It is hosted on a Tec-X1 instance from bladetec in Germany. I edit the source code of this webpage on my personal computer using a highly customized & extended GNU Emacs running on Arch Linux.
Except where otherwise noted, content on this site is licensed under a Creative Commons Attribution-ShareAlike 4.0 International License.
If you need to get in touch with me, look here. I am always open to suggestions, comments, and other feedback.
Hope you will enjoy your stay,
-D